Meet Our Team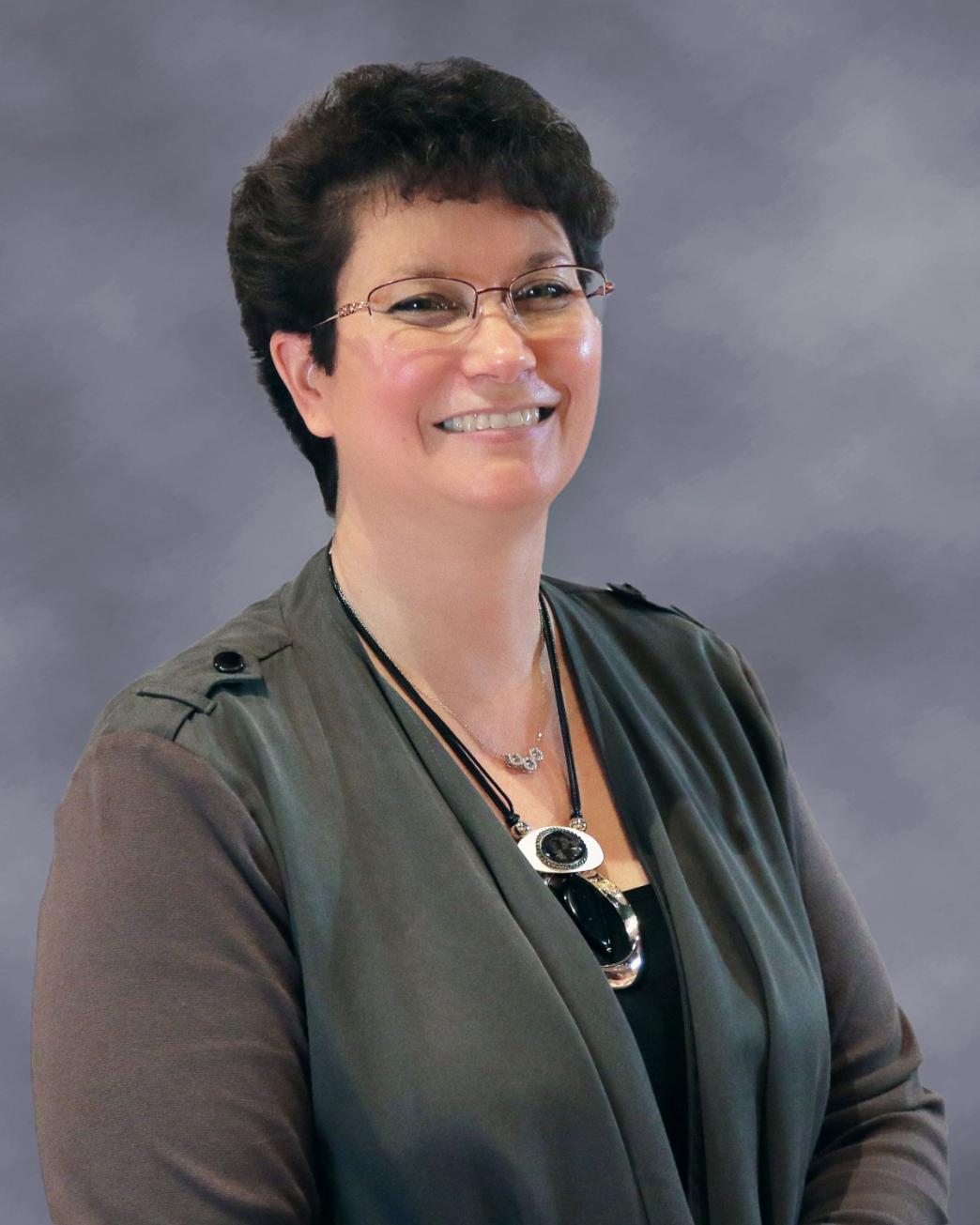 Dr. Jamie J. Pursell
DVM
Dr. Jamie Pursell is a 1996 graduate of The Ohio State University College of Veterinary Medicine. She joined Edenwood Veterinary Clinic in 1997, as an associate veterinarian. Dr. Pursell subsequently purchased the Clinic in 2004. Since then, Dr. Pursell has introduced several new diagnostic, surgical and medical innovations and procedures to the Clinic- such as ultrasound capabilities, CO2 laser surgery, therapeutic laser, digital radiology, advanced in-house laboratory and diagnostic services, complete anesthetic monitoring systems and much more. As a Veterinarian and the Clinic owner, Dr. Pursell always strives to put the Clinic motto into practice- "Quality, Compassionate Care for Your Family Pet." Dr. Pursell's interests in veterinary medicine include: internal medicine, soft tissue and orthopedic surgery, canine and feline behavior, and strong client education and communication. Dr. Pursell is a current member of the American Veterinary Medical Association (AVMA) and the Ohio Veterinary Medical Association (OVMA) and she participates in several continuing education programs in a variety of veterinary medicine topics. Dr. Pursell is also an active member of the Ohio Regional Disaster Animal Response Team (DART). The mission of DART is to promote the safety and well-being of all animals that are or may be adversely affected during a disaster and to respond to the needs of those who provide emergency and supportive care to animals during all phases of a disaster. Dr. Pursell is a past president of the North Central OVMA. She is a current member of the Seneca County Farm Bureau and is the leader of Eden Dairy 4H Club. Dr. Pursell is involved with community education events such as career days, classroom visits and hospital tours- promoting responsible pet ownership and pet wellness care. Outside of Edenwood Veterinary Clinic, Dr. Pursell shares her life with her husband Andre, their three active kids, three cats, two dogs, two horses, one pony and more than 6 chickens.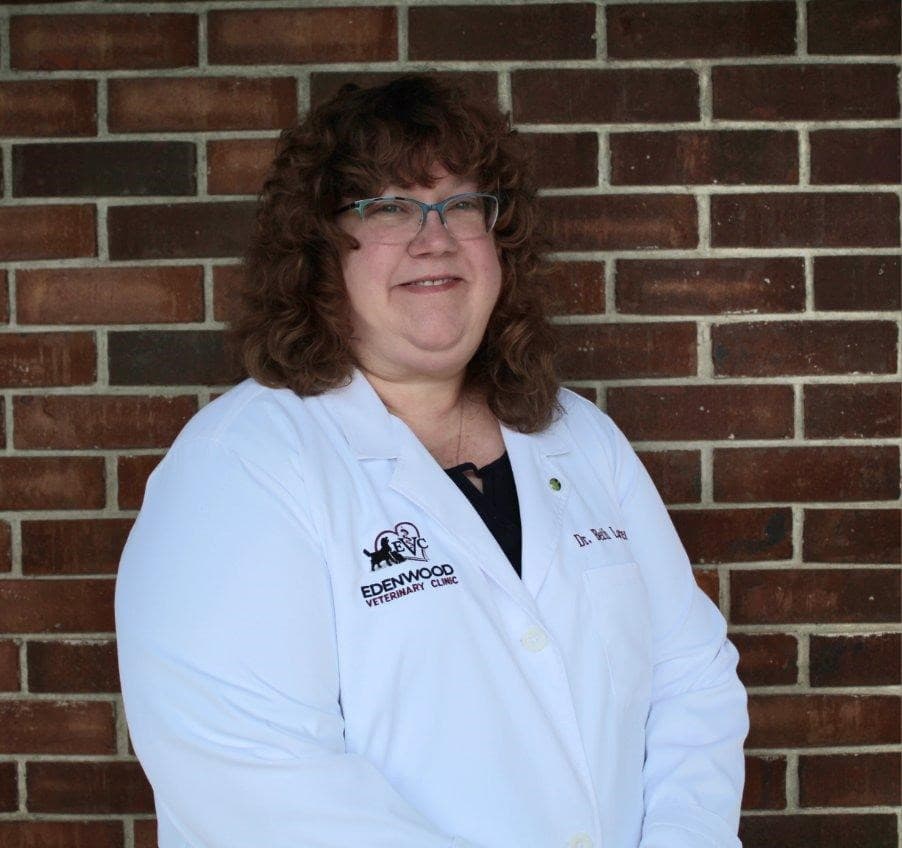 Dr. Beth A. Lorensen
DVM
Dr. Beth Lorensen joined the Edenwood family in the fall of 2022. She graduated from The Ohio State University's College of Veterinary Medicine in 1997. She has worked in a variety of areas within the veterinary field including mixed animal practice, small animal practice, shelter medicine and education. Which included teaching in the veterinary technician program at Stautzenberger College. Dr. Lorensen is an Oak Harbor native and still resides there with her family. She and her husband have 2 sons. The oldest attends Heidelberg University while the youngest is active in 4H, Boy Scouts and tennis. Dr. Lorensen and her family care for a variety of animals, including chickens, geese, ducks, goats on their mini-farm as well as several dogs and cats.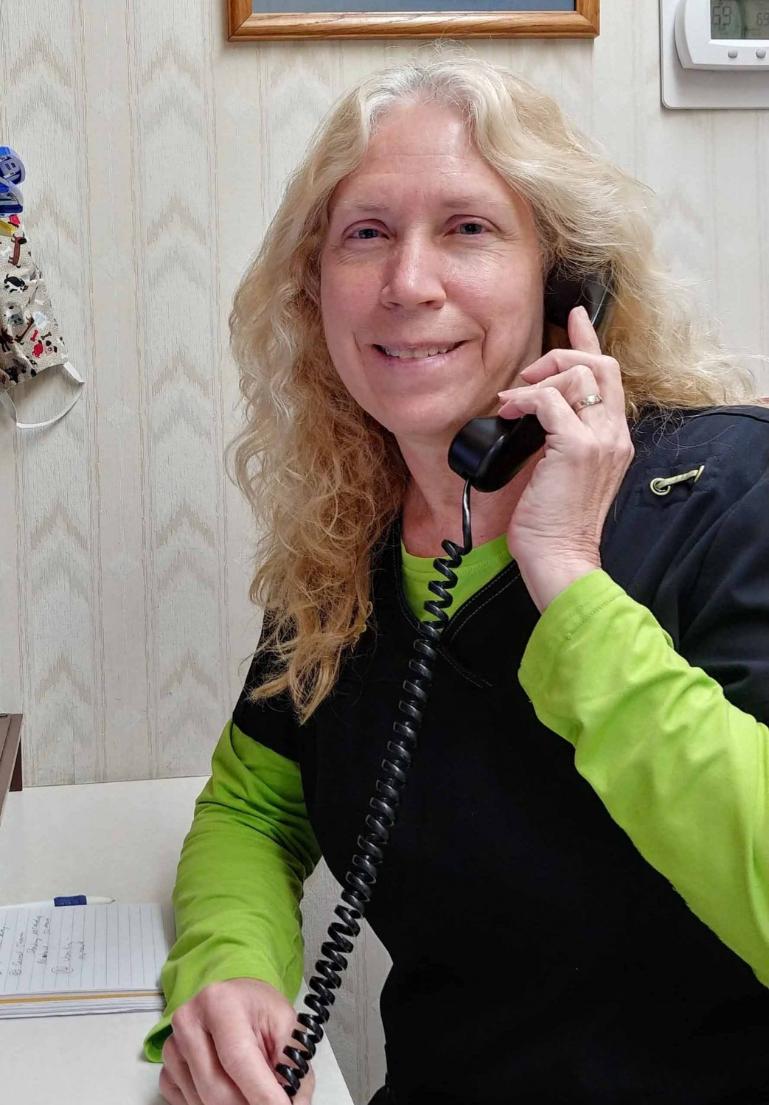 Marj Voorhees
Practice Manager
Marj has been with Edenwood Veterinary Clinic since the summer of 1991 and is currently the Practice Manager. Throughout the years, she has worked in every position in the clinic and she still says the kennel is the best. Marj oversees the staff, is in charge of all the inventory, websites and the computers, trying to make sure daily business activities run as smoothly as possible. She also takes care of client service, as well as the patients, when she gets the opportunity. Marj loves all of our clients' pets and strives to help them (and their owners) in whatever way she can. She says the wonderful patients of Edenwood are the number one reason she loves her job. When Marj is not at work, you may find her with camera in hand, hiking in a state park somewhere across the U.S. The photographs you see in the clinic are mostly ones that she has taken while on her travels. Marj enjoys the great outdoors, camping, campfires, traveling, photography and listening to music. She has a goal to camp in every state park in Ohio and also to visit each state in America, she only has 10 left. Marj is involved with LGRA, Large Gazehound Racing Association, a member of LARK, Lorain Area Racing Klub and MSWA, Midwest Silken Windhound Association. She has two adult daughters and her family at home now consists of an orange female tabby cat, Ronnie, and two Silken Windhounds, Jovian and Liviya, along with her husband, Gary, who also shares her love of animals.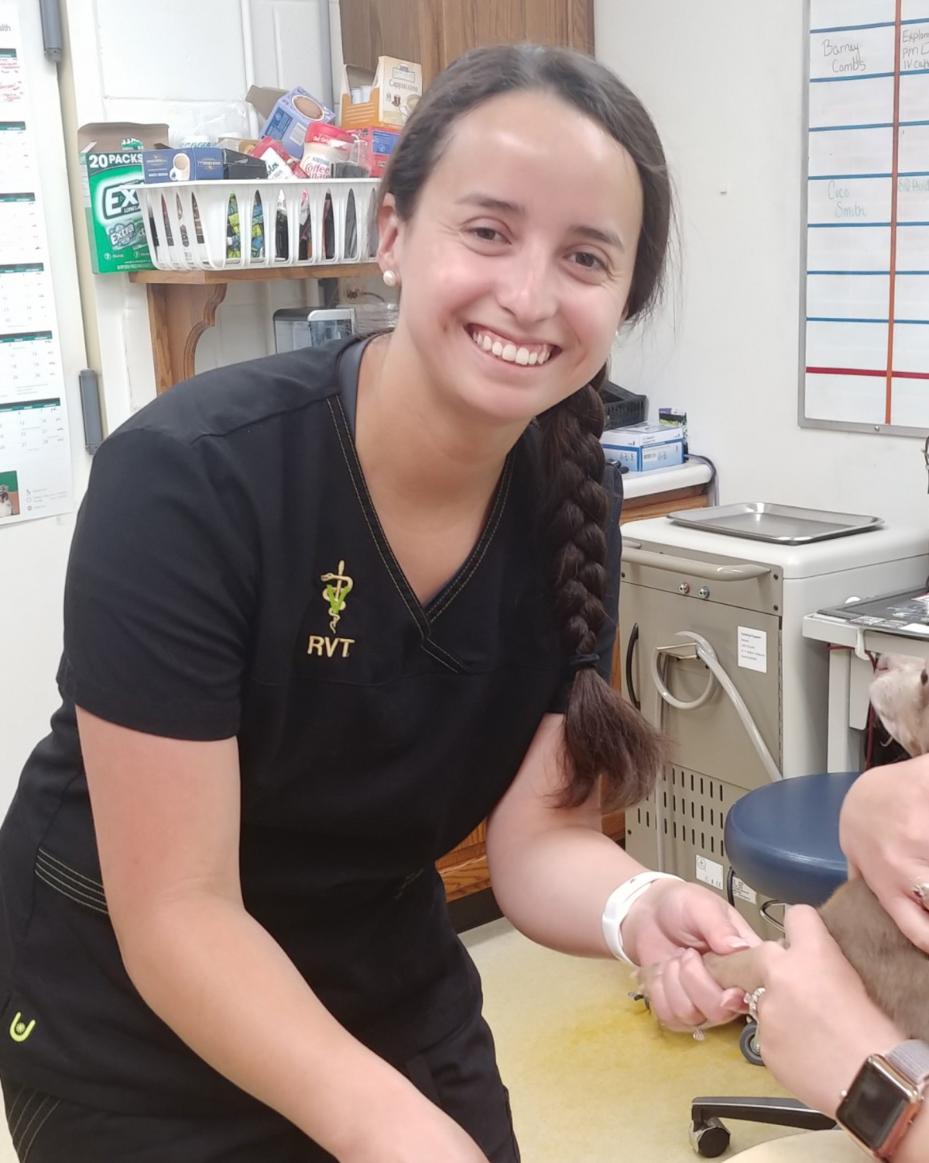 Marissa Shetterly
Veterinary Technician
Marissa graduated from Brown Mackie College in 2012 and has a degree in veterinary technology as a Registered Veterinary Technician. She joined the Edenwood Veterinary Clinic team in June of 2012. She has been a true asset to Edenwood. Marissa is a huge Indian's and Ohio State fan. She also enjoys softball, camping, boating, just being at the lake and spending time with her large family. She lives just outside of Tiffin with a perfect Shar Pei mix, Mia, a Pit Bull mix, Raina, a little Shari Pei mix, Nova, a Border Collie mix in training, Luka and another puppy, Tatum. She has added 5 cats into the pack, Chapter, Cheeto, Coraline, Ebony and Zeke. Marissa also takes care of 20 chickens, 6 ducks and 1 turkey.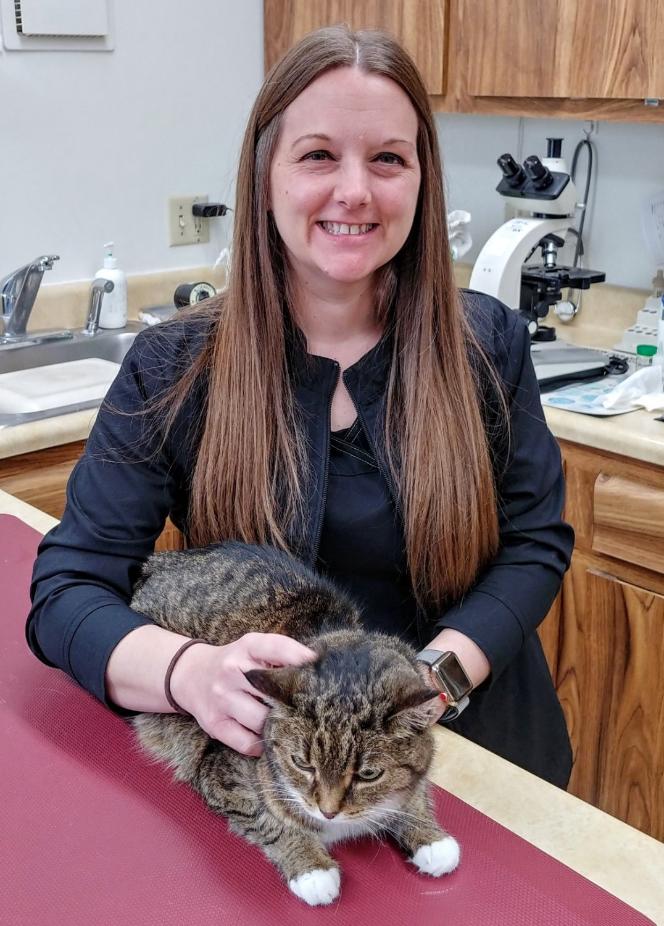 Chrissy Hohman
Veterinary Technician
Chrissy is a 2006 Stautzenberger College graduate with a degree in veterinary technology. She started out at Edenwood as the weekend and holiday kennel assistant in 1999. Chrissy has since worked in almost every position in the clinic, gaining valuable knowledge that helped her while she was pursuing her veterinary technician degree. She was one of our full time Vet Tech's for over 12 years. Then for awhile, she was only with us part time, but now she is back full time. She just couldn't stay away. Chrissy enjoys every aspect of caring for our patients. When Chrissy is not working, she enjoys camping with her family. She lives in McCutchenville with her husband Al, sharing their home with their son, Tucker and three fur "kids", Sookie the furry feline, and Mossy & Mookie are the furry canines.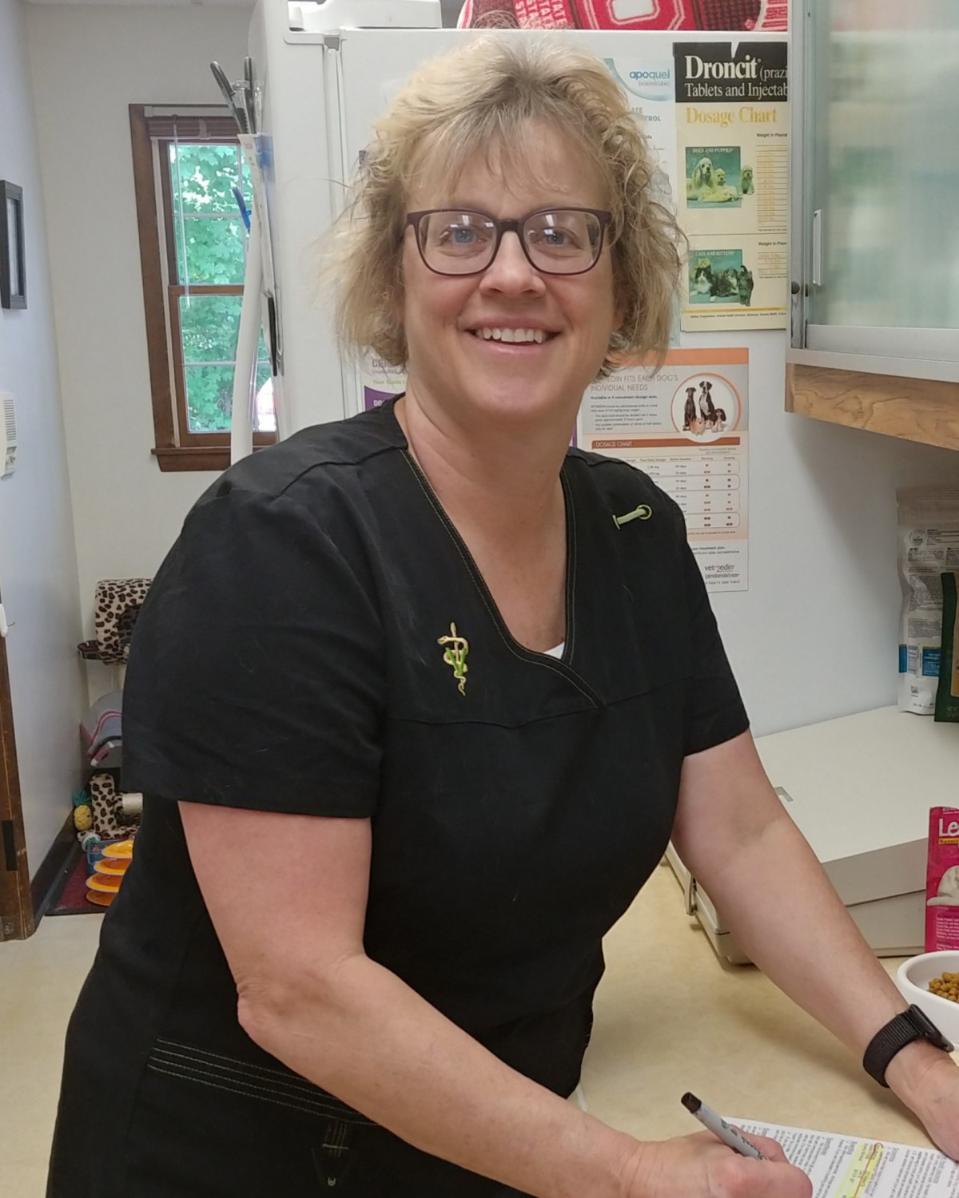 Shelly Glover
Veterinary Assistant
Shelly is a multi-talented employee of Edenwood Veterinary Clinic- you'll find her in the front office, in the kennel and in the exam rooms. Shelly worked with us in the early 1990's, left for a few years to focus on her family, and then rejoined our staff in 2002. Shelly is most famous for looking for the next rescued dog that she can find a fur ever home for by visiting Pet Finder online, area shelters and the dog warden. If you're looking for a new canine (or even feline) addition, Shelly is the one to help you find that perfect match. When not working at Edenwood, Shelly loves to get caught up in a great book (if she can find the time!) and she is very involved with her church. Shelly lives outside of Bloomville, with her husband Greg. She enjoys spending time with their adult children and their 6 grandchildren. Of course, there are a few four-legged kids, Jack, a Jack Russel mix, Charlie, a Caviler then Chaplin, Weiser, Dwight and Hammie are the felines who rule the roost! They are all rescues!!!! Shelly also has 13 chickens.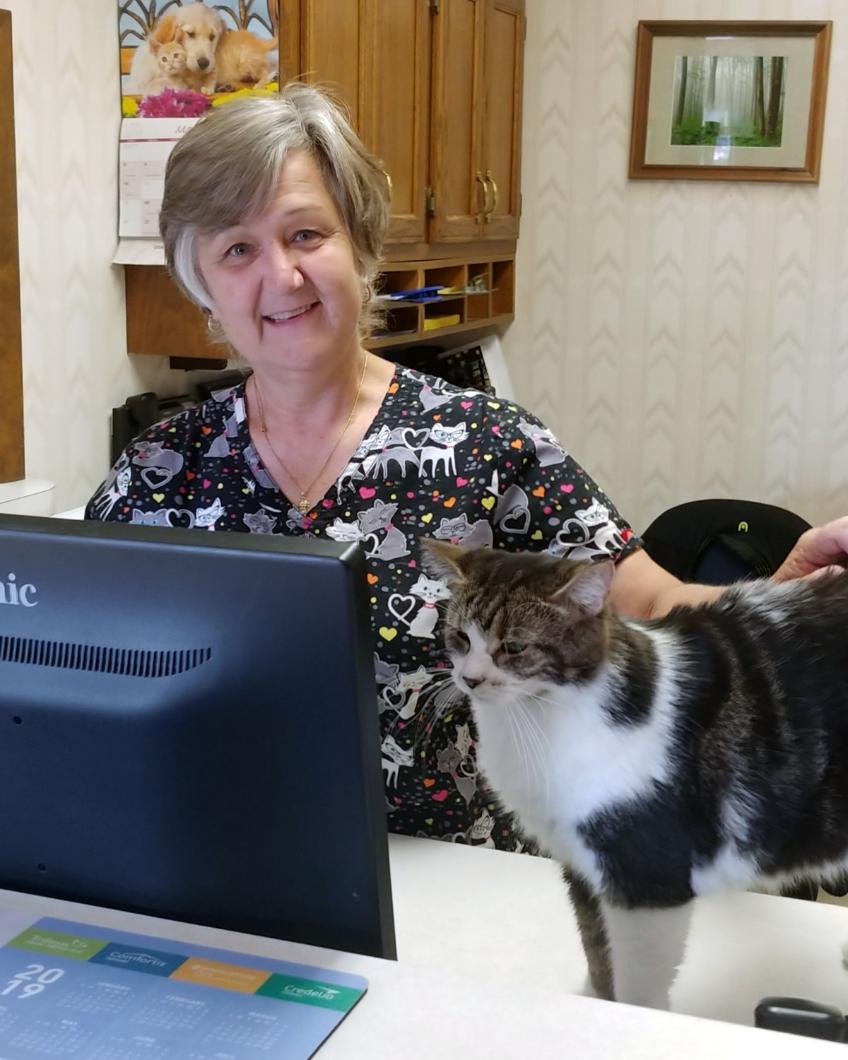 Kathy Ferner
Veterinary Assistant
Kathy is our crazy cat lady, she currently is owned by 16 felines who share her New Riegel home. Kathy started working at Edenwood in the summer of 2013, before that, she was a client here at the clinic from the beginning of Edenwood. Kathy began working in the kennel and then took over in the front office. You will see her smiling face when you come in our doors. She is a fun, enthusiastic and a great person to work with. Kathy enjoys spending her off time at the beach, with her long time boyfriend, Jim, doing something with one of her sisters or just plain relaxing at home, building Legos with nieces and nephews or playing with her cats.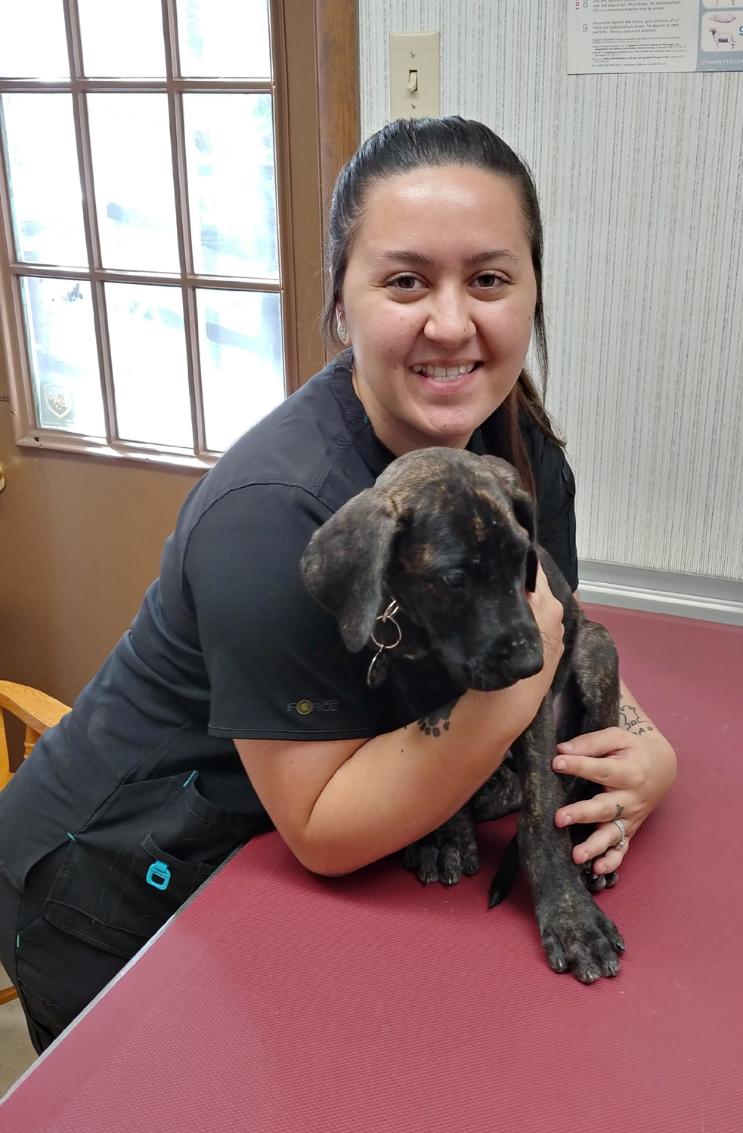 Angie Blackford
Veterinary Assistant
Angie began her new career with Edenwood in May of 2020. She has learned most of the positions such as kennel and office, but is now mainly assisting the Dr. and the technicians. Angie is a lover of all animals (domestic and wild) but has a soft spot for giant breed dogs, special needs animals and possums! She has her wildlife propagation license and when she has time, she loves to help with rehabilitation of sick and injured wildlife and domesticated animals. Angie also enjoys caring for orphaned wildlife in the spring and returning them back to the wild when they are ready. She also fosters animals privately and through All Species Adoption Program. One of her favorite things to do is save an animal from an unfortunate situation and find it a loving forever family. Angie lives by the motto "Be Kind to Every Kind" and believes that every animal has a purpose and should be respected and treated as so. She loves to be outside and doing things such as hiking, four wheeling, horseback riding, and kayaking. Angie also enjoys visiting aquariums, zoos, the Amish Country, Hocking Hills, Lagoon Deer Park and Cumberland Falls in southern Kentucky. She married her high school sweetheart in 2019 and together they have two animal loving children, a daughter, Kylie and a son, Graham. They share their new farm home with 3 dogs, a Great Dane, Lazarus, an Irish Setter mix, Buck, a Mini Poodle, Ellie, 4 cats, Gus, Finn, Skip and Poppy, 26 chickens, 8 goats, 3 turkeys, 2 rabbits and 1 cow.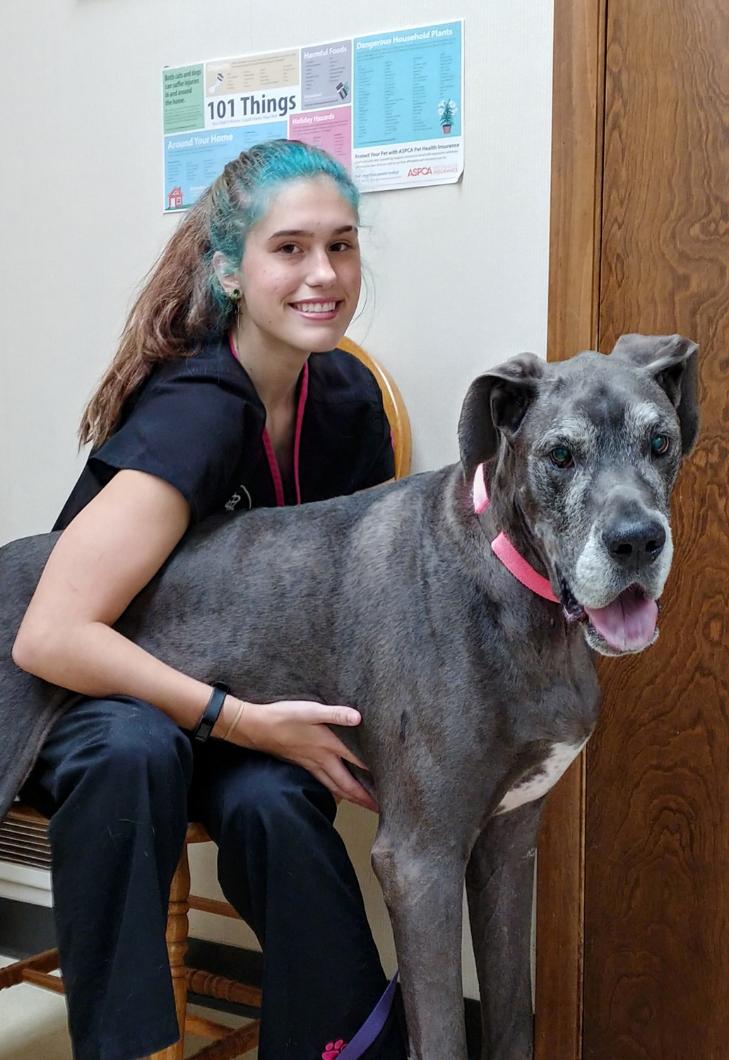 Annabelle Rinnert
Veterinary Assistant
Annabelle began her dream job with Edenwood in June 2020 right after her graduation from Columbian. She is in charge of our kennel and while your pet is on vacation here with us, she will make sure your furry family member feels at home. Kennel duties consist of feeding, watering and taking care of all the boarders, which includes playtime whenever possible. Annabelle adores all the animals and they love her too. Her family at home consists of 4 cats, Atlas, Fiona, Gideon and Venus. Annabelle enjoys camping with her family, drawing and painting, which she had 4 years of advanced art classes while in school and hanging out with her friends.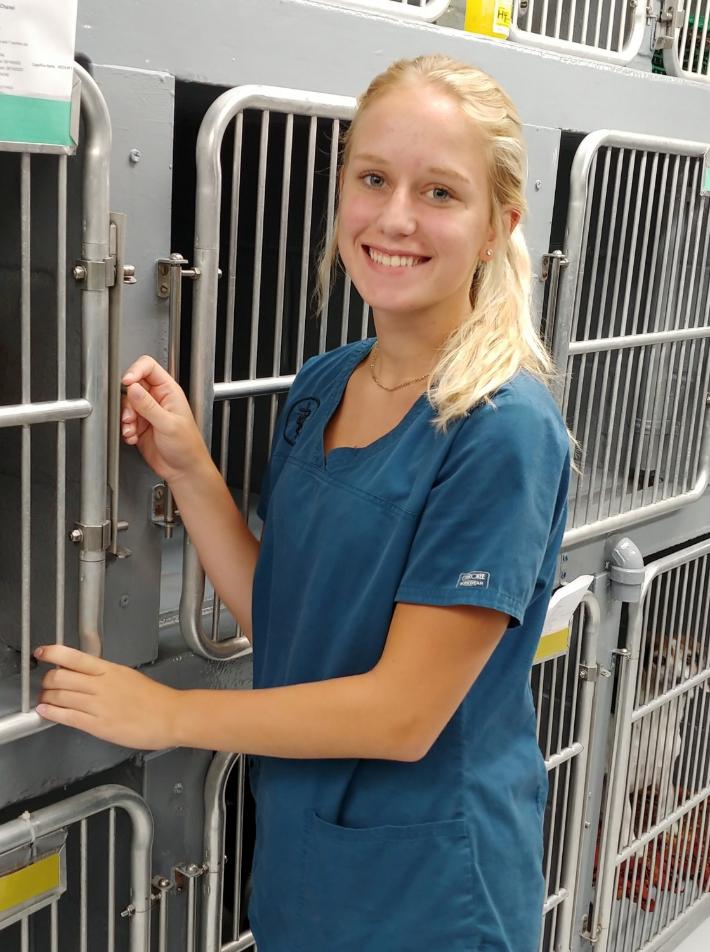 Taylor Sours
Veterinary Assistant
Taylor is our 'do whatever we ask her to do' person. She really enjoys working in the kennel, taking care of all the boarders and assisting in the exam rooms. She is currently attending college online in the Veterinary Technician Associate Degree Program and performing many hands on learning tasks here at Edenwood. Taylor joined the Edenwood team in the summer of 2020. She grew up on a farm and loves being around the animals. In her free time, Taylor loves to run, she was an important part of her school's cross country and track teams and spends time with her family and friends. At home, she has four cats and 2 young Labradors, Stella and Gunner.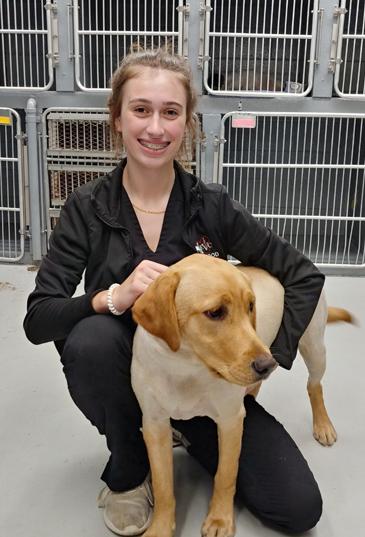 Brooklyn Ranieri
Veterinary Assistant
Brooklyn joined Edenwood team in November of 2021. She is our weekend and holiday kennel person. She is learning animal skills by working in the kennel and assisting in the exam rooms.